Improve the safety, speed, and efficiency of epidural and spinal anesthesia with Accuro®.
TRY ACCURO FREE FOR 30 DAYS. Accuro's automatic detection of epidural location and depth makes it easy for you to administer spinal anesthesia­—especially with challenging patient anatomy.
Rebecca Minehart, MD, MSHPEd — Boston
Rebecca Minehart explains why adopting Accuro for epidural needle guidance in labor and delivery (especially in patients with challenging anatomy) is her recommendation and practice. Moreover, she presents a case supporting the use of Accuro to improve patient satisfaction and potentially minimize patient anxiety.
Certainty Can Be Effortless.
Accuro 3D spinal navigation technology by RIVANNA augments the palpation-only technique that comes with blind needle guidance when you are performing epidurals or spinals because it is technology that is easy to use. Handheld, lightweight, untethered—the Accuro is the world's first ultrasound-based system designed specifically to help you apply spinal and epidural anesthesia with 3D navigation of the spine.
AUTOMATED EPIDURAL GUIDANCE FOR IMPROVED FIRST-ATTEMPT SUCCESS*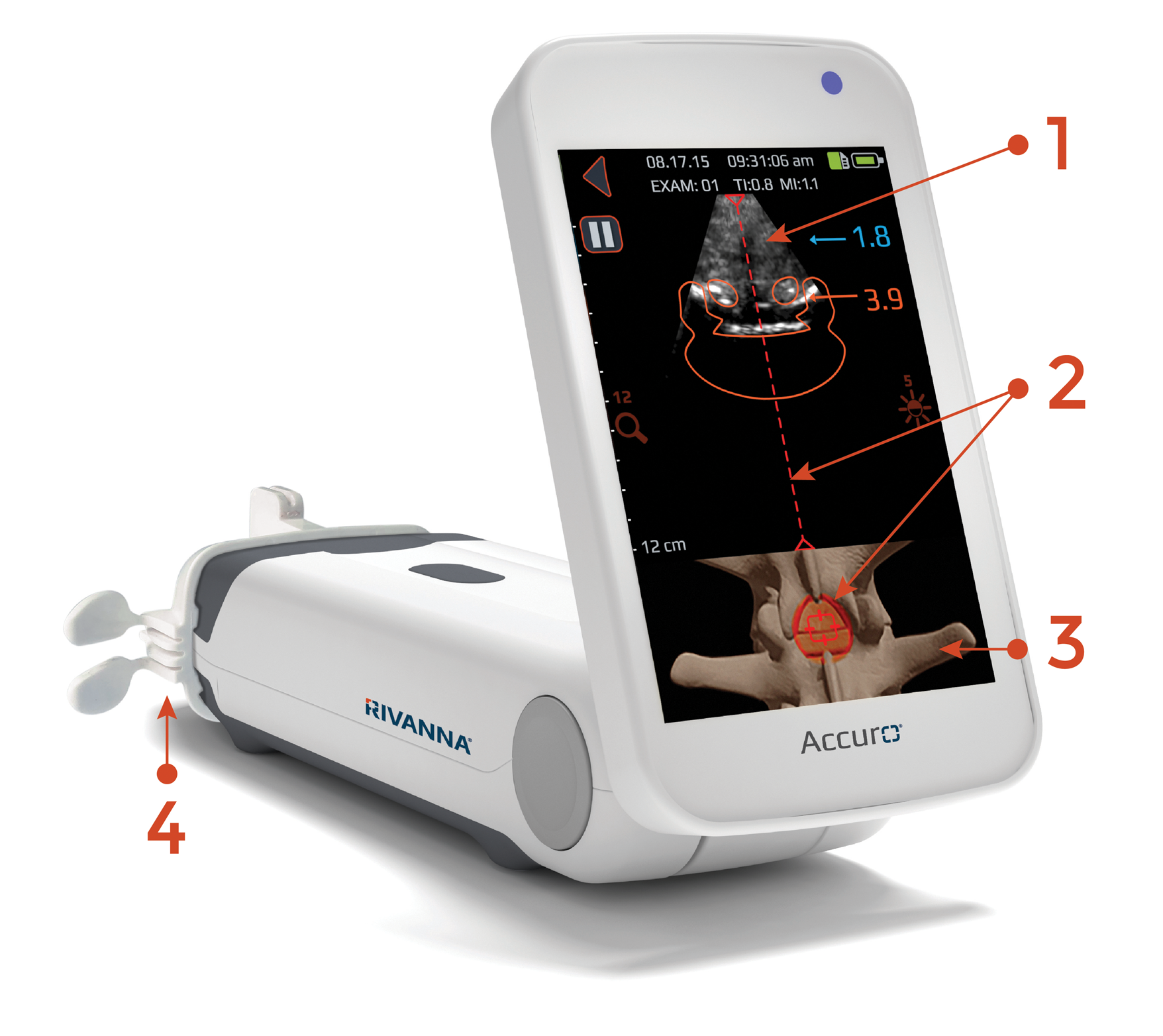 Accuro's world-first technology enables you to see what you've been missing.
SEE more than 5-10X* enhancement of bone-to-tissue contrast with Multi-Frequency BoneEnhance® Image Reconstruction technology.
FIND the ideal insertion point with Midline (red dashed line) and Cross Hair indicators.
AUTOMATICALLY IDENTIFY epidural location with success rates exceeding 94%* using AI-Based SpineNav3D™ Spine Recognition technology.
MARK needle placement or perform real-time needle guidance with the Accuro Locator needle guide.
*M. Tiouririne, et al., 2017; Singla et al., 2019
Read More. Feasibility of Spinal Anesthesia Placement Using Automated Interpretation of Lumbar Ultrasound Images: A Prospective Randomized Controlled Trial