Ready To Handle Any Curve With Accuro®?
Accuro's spinal navigation system automatically identifies spinal midline, trajectory, and depth during neuraxial anaesthesia. Clinical evidence collected from around the world and enlisting more than 600 subjects all point to the same conclusion: The Accuro-guided technique is superior to blind palpation irrespective of provider experience level, type of neuraxial anaesthesia performed, and amount of prior training with Accuro*.
CHALLENGING PATIENT ANATOMY? Accuro delivers superior performance when administering epidural and spinal anaesthesia—especially with challenging patient anatomy!
Certainty Can Be Effortless.
Accuro's state-of-the-art image guidance includes BoneEnhance®, which is designed to visualize bone landmarks, and SpineNav3D™, which guides you with automatic epidural location and depth.
Proven Clinical Benefits:
• 48% Reduction inneedle redirects*.
• 57% Reduction in needle insertion time*.
• 95% Overall patient satisfaction*.
We anticipate providers will migrate to an image-guided standard of care in neuraxial anaesthesia for the benefit of all patients and providers.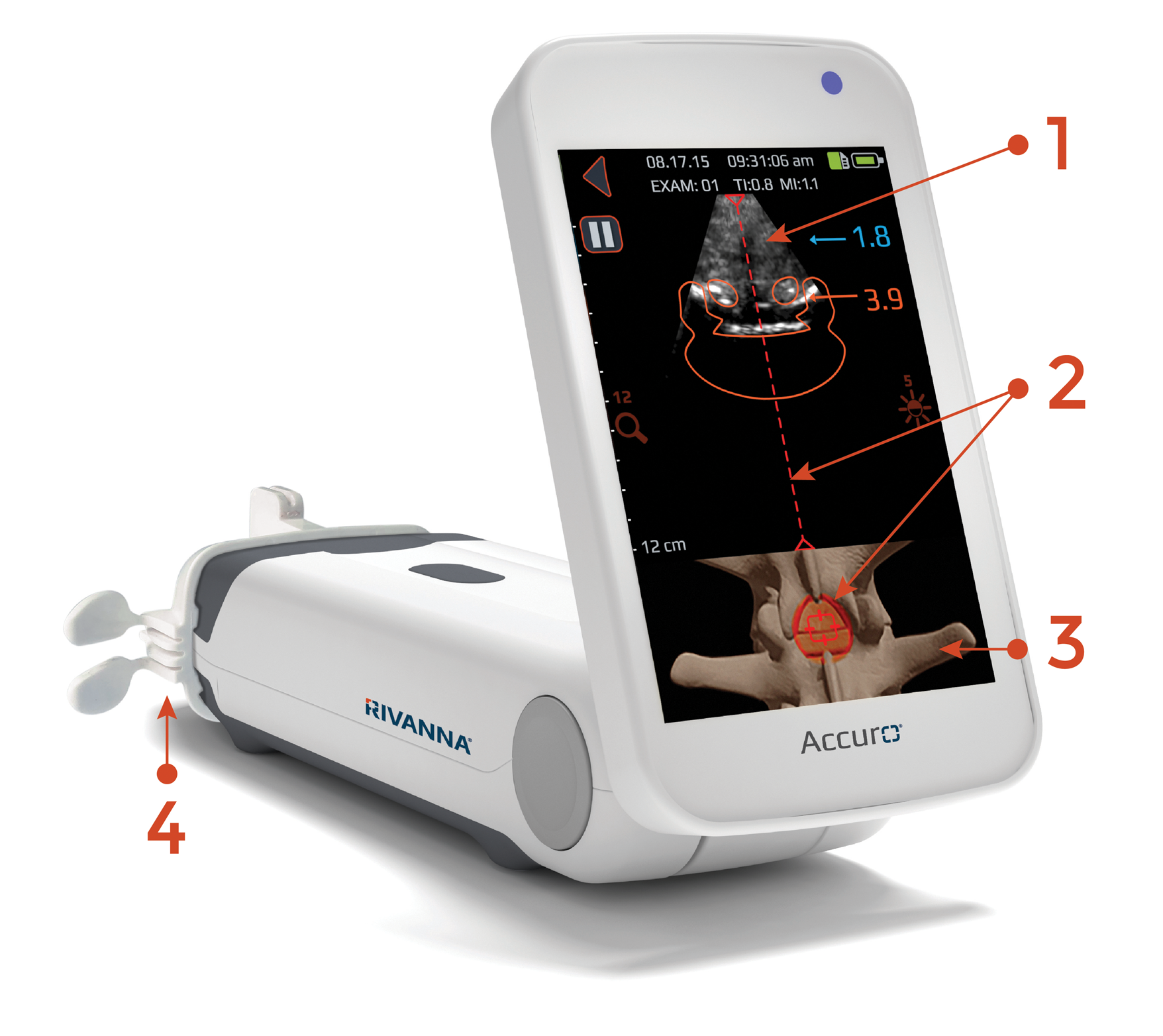 AUTOMATED EPIDURAL GUIDANCE FOR IMPROVED FIRST-ATTEMPT SUCCESS*
1. SEE more than 5X* enhancement of bone-to-tissue contrast with Multi-Frequency BoneEnhance® Image Reconstruction technology.
2. FIND the ideal insertion point with Midline (red dashed line) and Cross Hair indicators.
3. AUTOMATICALLY IDENTIFY epidural location with success rates exceeding 95%* using AI-Enabled SpineNav3D™ Image Recognition technology.
4. MARK needle placement by gently pressing Accuro Locator needle guide against the skin.