See What You've Been Missing.
Accuro's groundbreaking technology features Multi-Frequency BoneEnhance® Image Reconstruction for enhanced visualization of lumbar and thoracic bony anatomy and compensates for ultrasound's inherent distortion with a 5- to 10-fold increase in bone-to-tissue contrast.
Using these clearly identified bony landmarks, AI-Enabled SpineNav3D™ Image Recognition guides you with automated identification of spinal midline, epidural space, and depth during lumber neuraxial anesthesia. This technology also supports real-time thoracic paramedian neuraxial procedures and prescribes a "needle-track" path towards the interlaminar space, while needle enhancement enables real-time Tuohy visualization.
Rebecca Minehart, MD, MSHPEd, Boston, and Antonio Gonzalez, MD, New Haven 
By improving efficiency and reducing risk, we are significantly improving the standard of care we provide to our patients.
Certainty Can Be Effortless.
Accuro gives you confidence when performing epidurals or spinals, even in the most challenging patients. Accuro's automated spinal navigation technology is clinically proven to increase first-attempt success rates and significantly increase patient satisfaction with pain control.
Proven Clinical Benefits:
• 48% Reduction inneedle redirects*.
• 57% Reduction in needle insertion time*.
• 95% Overall patient satisfaction*.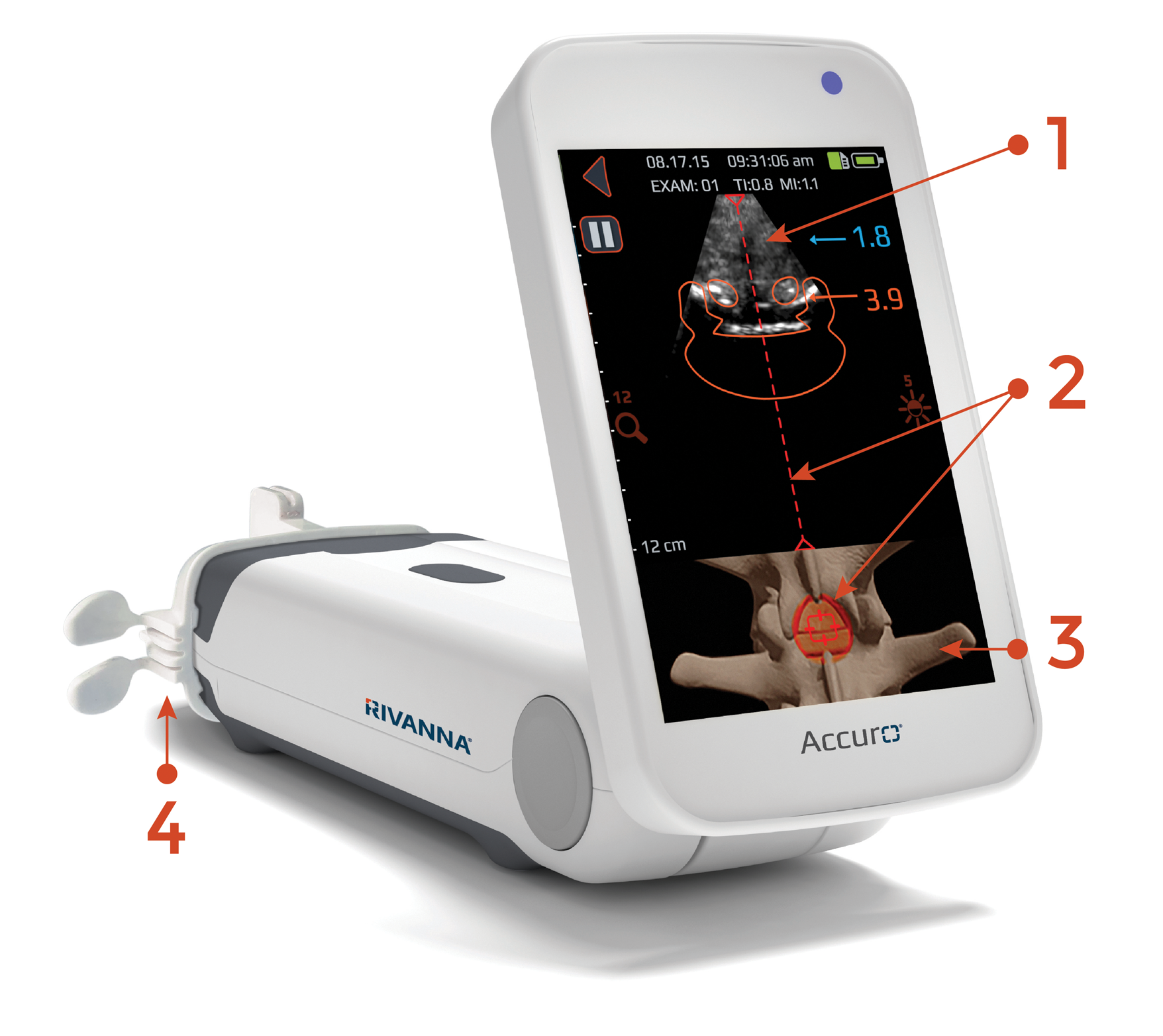 SEE more than 5-10X* enhancement of bone-to-tissue contrast with Multi-Frequency BoneEnhance® Image Reconstruction technology.
FIND the ideal insertion point with Midline (red dashed line) and Cross Hair indicators.
AUTOMATICALLY IDENTIFY epidural location with success rates exceeding 94%* using AI-Enabled SpineNav3D™ Image Recognition technology.
MARK needle placement or perform real-time needle guidance with the Accuro Locator needle guide.
Rebecca Minehart, MD, MSHPEd — Boston
Rebecca Minehart explains why adopting Accuro for epidural needle guidance in labor and delivery (especially in patients with challenging anatomy) is her recommendation and practice. Moreover, she presents a case supporting the use of Accuro to improve patient satisfaction and potentially minimize patient anxiety.
Antonio Gonzalez, MD — New Haven
Antonio Gonzalez, MD, Assistant Professor of Anesthesiology at Yale School of Medicine discusses his experiences with Accuro for enhanced patient care in neuraxial anesthesia.