Hit the spot without a steep learning curve.
Accuro Epidural Guidance delivers automated, real-time image guidance with significantly enhanced bone-to-tissue contrast to ensure improved localization of the desired intervertebral space for first-attempt success during spinal needle guidance procedures.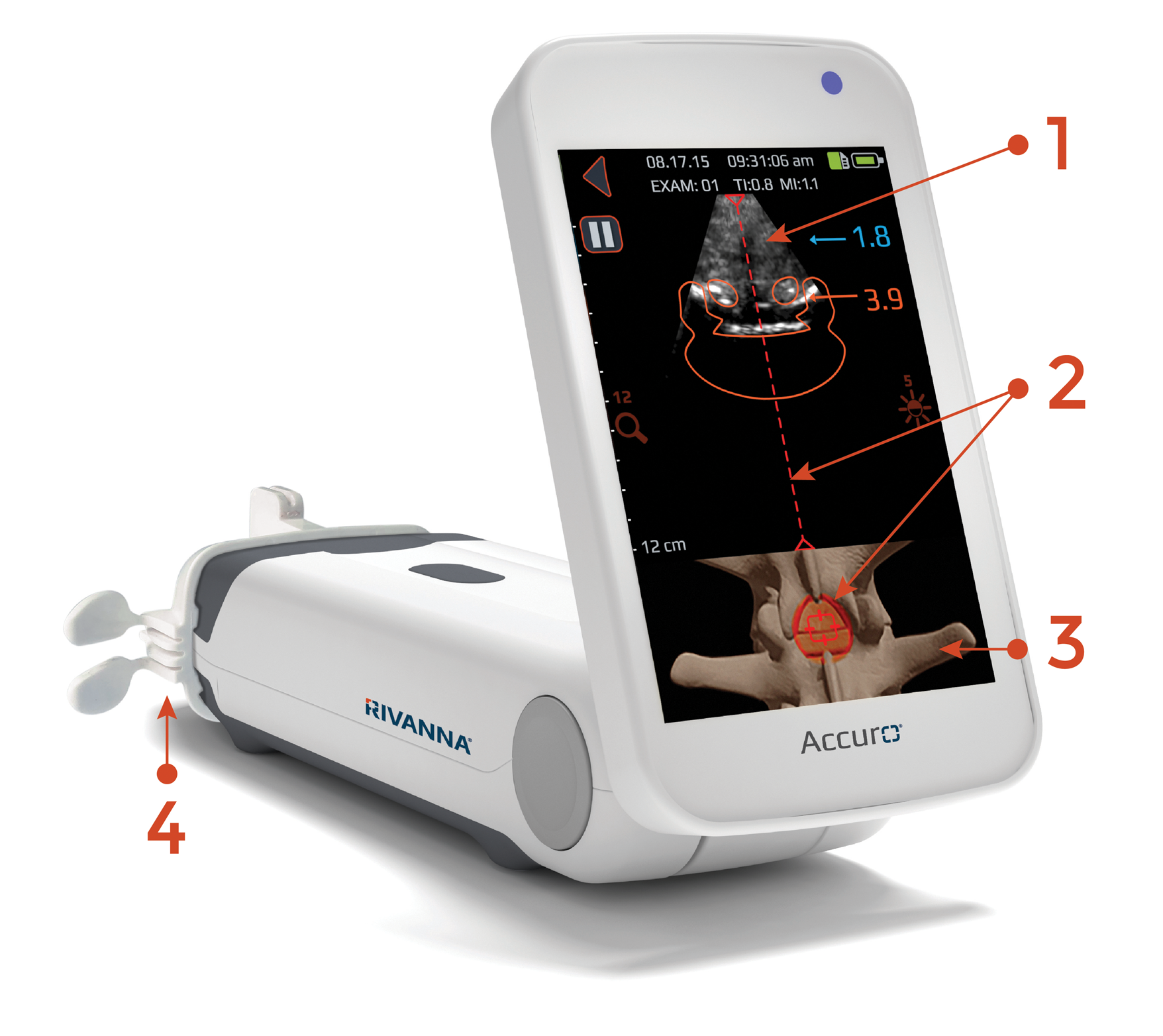 Accuro's world-first technology enables you to see what you've been missing.
SEE more than 5-10X* enhancement of bone-to-tissue contrast with Multi-Frequency BoneEnhance® Image Reconstruction technology.
FIND the ideal insertion point with Midline (red dashed line) and Cross Hair indicators.
AUTOMATICALLY IDENTIFY epidural location with success rates exceeding 94%* using AI-Enabled SpineNav3D™ Image Recognition technology.
MARK needle placement or perform real-time needle guidance with the Accuro Locator needle guide.
Real-time neuraxial navigation—it's like GPS for the spine
Accuro guides you to the desired intervertebral space with easy-to-interpret graphical indicators and enhanced bony landmark visualization. That means you achieve improved localization of the desired intervertebral space for first-attempt success when you perform neuraxial anesthesia-related procedures.
Handle any curve
Accuro is clinically proven to increase first-attempt success rates, especially with challenging patient anatomy. In turn, you improve the efficiency of your practice, the quality of your medical care, and the confidence and comfort you instill in your patients.
Remove the blindfold
Accuro is simple to use and superior to 'blind' palpation irrespective of provider experience, as demonstrated in randomized controlled trials.
Simply superior:
• Easy-to-use, automated image interpretation
• You don't have to be a sonographer to use Accuro
• Superior, easy-to-interpret imaging performance
• Portable, handheld form factor
• Rotatabletouchscreen display
• Pocket size and battery operated
Improve decision making, patient outcomes, and patient satisfaction.
Intervertebral level identification and image-guided epidural placement in parturient presenting post-trauma spinal instrumentation and scarring.
See what you've been missing.
Scouting technique with Lumbar preset
Accuro's automated identification of spinal midline, epidural space, and depth allow you to mark precise needle placement during spinals and epidurals.
Automated depth estimates
Identification of either the interlaminar space or the spinous process
Scan plane orientation along 3D spine
Paramedian approach with Thoracic preset*
Accuro's "needle track" prescribes a needle pathwith on-screen needle visualization for real-timeimage guidance during paramedian epidurals.
Needle track indicator
Real-time needle visualization
Automated depth estimate
*Available with upgrade